Priory Veterinary Group – Highcliffe Vets
An R.C.V.S. Accredited Veterinary Practice Branch of Priory Veterinary Group, based in Highcliffe.
About Priory Veterinary Group, Highcliffe Vets
If you live in the area and are searching for Highcliffe vets, the Priory Veterinary Group's Highcliffe practice offers a convenient high street location for routine appointments and medication collection. It operates extended hours, with evening consults on Tuesdays and Thursdays.
Consultations are only by appointment. For appointments which are less urgent, you can book an appointment online.
Emergency and Out-of-Hours Service
All emergency and out-of-hours consults will be seen at our Christchurch hospital facility in Purewell. 
Consulting/ Opening Times:
Monday, Wednesday & Friday
09:00 – 12:00 & 14:00 -17:00
         (Doors open 09:00 – 12:15 | 13:45 – 17:00)
Tuesday
09:00 -12:00 & 15:30 – 18:00
         (Doors open 09:00 – 12:15 | 13:45 – 19:00)
Thursday
10:00 – 13:00 & 15:30 – 18:00
         (Doors open 09:00 – 12:15 | 13:45 – 19:00)
Saturday & Sunday
Closed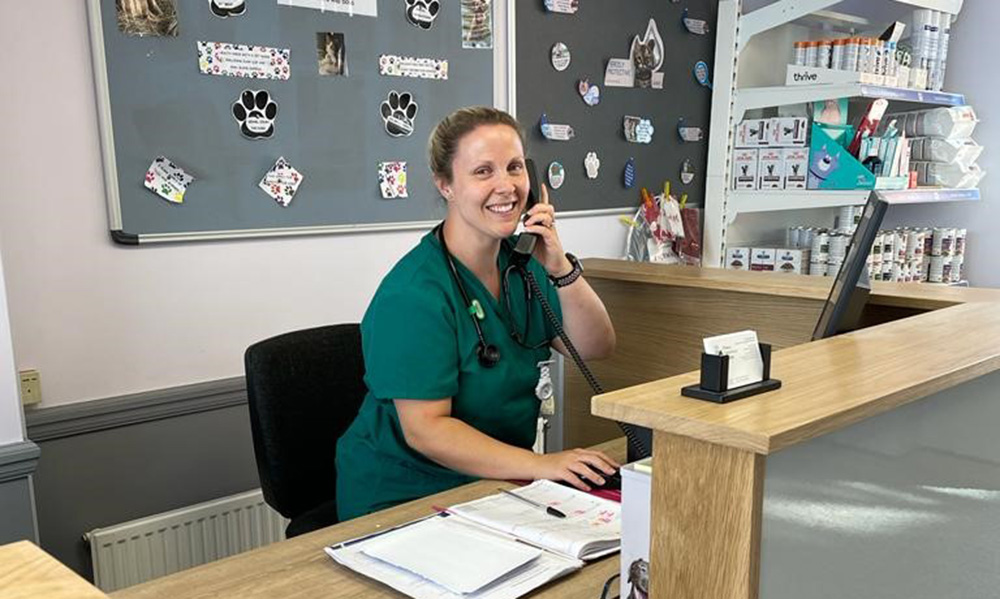 How to Find Us
Find us by using the map below. Alternatively, use our postcode BH23 5EG for your satnav or Google maps.
Our What3Words location is; bookings.earphones.booms
Location, Accessibility & Parking
Our Highcliffe vets branch is located on Highcliffe high street along Lymington Road. There are two entrances to the building; one from the high street and one at the rear of the building which leads directly into our carpark which can be accessed from the Wortley Road Carpark (Ringo reference 1889).
Highcliffe Branch Services
Our vets in Highcliffe offer:
E

Veterinary Nurse clinics
E

Extra-large consult room
E

Medication and prescription collection
Highcliffe Practice offers a high street location, with a spacious waiting area, disabled access, off-street client parking, plus pet food and treats for sale.
Join Our VIP "Priory Pet Club"
Managing your pet's healthcare is important – 'Priory Pet Club' – our in-house pet healthcare plan, helps to make it more affordable. When it comes to pet health, prevention is always better than cure.  Members benefits include:
Pay monthly for preventative healthcare, spreading the cost of essential vaccines & treatments.
Easy direct debit setup online.
Saving a significant amount of money annually (as compared to pay-as-you-go treatments.)
Exclusive discounts on services, such as neutering and out-of-hours consultation charges.
No administration fees for Pet Insurance claims.
Direct Claims available from your Pet Insurance for treatment over £500. *T&Cs Apply
Early-bird access to VIP events and information evenings.
Payments are taken automatically by Direct Debit, allowing you to relax in the knowledge that your routine pet care needs are covered for an entire year. 
This practice is always welcoming and friendly. My 12yr old border collie has always loved coming here. I love the way they are available 24 hrs a day if needed. Caring professional and friendly, everything you need for peace of mind when you have a sick animal.
Keith

Had to take Macey (my cat) to see the vet this afternoon. He was brilliant. Macey obviously liked him as she didn't play up. She's normally quite feisty. I highly recommend Priory Vets. I've used their services for years.
Tanis

Just want to say thank you for making a sad visit peaceful, kind and professional. We have always found the Priory looked after our pets well and would not want to go anywhere else. Thank you.
Jenny

The most amazing, kind, professional veterinary clinic, not just vets but also reception. Can't thank you guys all enough. Every time I needed your help, you have always been there. Thank you.
Anta

Professional, empathetic, superb veterinaries who go above and beyond the call of duty. All staff are friendly and give good advice.
Nicola

Thanks to all at Priory Vets Christchurch for taking care of me as well as my poor Tilly when she was poorly. The lady who answered the phone was very kind and caring and fitted us in very quickly. Emma the vet was very kind to my dog and explained my choices clearly. I received the same care at all of Tilly's follow up appointments. Thoroughly recommend.
Karon