Have you rescued or imported a dog from overseas? Or travelled with your dog to mainland Europe? If so, you need to be aware of this.
We see plenty of animals that have been brought in from abroad and rehomed here in the UK. While this is a very generous and kind-hearted approach to dog ownership, it does carry different potential risks which are often not well publicised.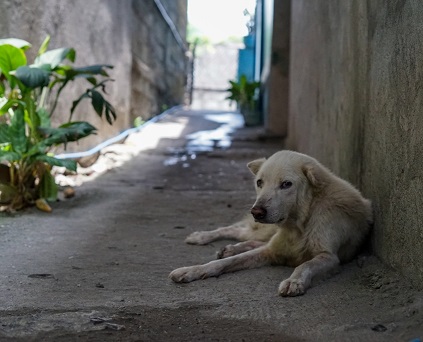 One such risk which you may have seen highlighted the news recently is a disease called Brucella Canis. This is a bacterial disease which is spread by contact with bodily fluids including saliva, blood, urine and reproductive fluids. It can present in dogs with the following symptoms:
Neck or Spinal Pain
Swelling and/or Pain in the testicles
Discharge from the Penis or Vulva
Infertility or abortion
Eye pain or inflammation (uveitis)
However, it is important to note that some dogs do not show any symptoms when infected. As a zoonotic disease, dogs can also pass the infection to humans where it can result in extreme illness and infertility. In this recent case, the lady involved was hospitalised with the condition, her other 5 dogs also contracted it and because of the risk to human health, had to be put down. We can only imagine how devastating this must have been for her and tragically could have all been avoided with some testing.
At present, there is no legal requirement to test for any diseases before these animals are brought in, only vaccinate them against rabies and worm them. Some rescue organisations will perform a full range of tests, both before they import and again after they are here, but not all.
If you have a foreign rescue dog who hasn't been tested since their arrival in the UK, we would suggest that you do so. The full list of diseases that can be tested for is:
Brucella Canis
Leishmania
Heartworm
Erlichia Canis
Anaplasma
Hepatozoon Canis
Babesia
In some cases, it takes some time, after infection has occurred, for antibodies to form and therefore ongoing testing in recommended in these cases.

Due to the increased incidence of imported rescue animals and the severity of the risk to human health we have decided to follow Bristol University's example and implement a Brucellosis policy for the protection of our clients and staff. From August 2022, all newly registered dogs that have been imported from oversees will require Brucellosis testing prior to any diagnostic tests or procedures. We are currently reviewing our policy for imported dogs already registered with us though we would still recommend testing if they have not already been tested and we may request a test prior to any procedure which poses a potential risk to staff.
For more information about Brucellosis and the risks and challenges it poses read these articles;
https://www.bva.co.uk/news-and-blog/blog-article/brucella-canis-what-vets-need-to-know/
http://apha.defra.gov.uk/documents/surveillance/diseases/Canine-Brucellosis-Summary-Final-260421.pdf
https://www.langfordvets.co.uk/media/7230/recommended-testing-for-imported-dogs-sap-updated-early-2022.pdf